Open House from the Alliance at DeKalb County
OPEN House FROM THE ALLIANCE OF DEKALB COUNTY
The Alliance of DeKalb County a DeKalb based non -profit organization that receives HUD grants to buy blighted properties. The organization refurbishes and resales them to mode rate income buyers who meet the HUD criteria. Commissioner Larry Johnson w ho has been a supporter of this project for many years had the opportunity to tour the just completed project on River Oaks Drive. The before and after pictures o f the property shows the amount of transformation that goes into refurbishing these homes.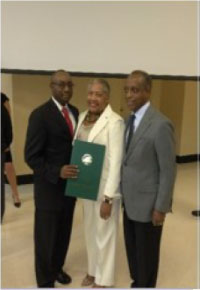 O.V. Brantley Retires
After four years of dedicated service, Attorney O . V. Brantley is saying good bye as the DeKalb County Attorney in Chief. A temporary appointment that was to last six months lasted 4 years. 0. V. w h o received a standing ovation from staff and the Commission was described by Commissioner Larry Johnson as a smart, dedicated and veteran attorney of county government. She is retiring with over 30 years of service and experience in county and city government . We wish her well and a happy retirement!